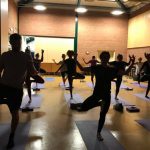 The Resource Centre continues to be a venue of choice for many businesses and community groups.
Last month saw Yoga with Michaela launch a new class from the centre on Mondays, 7-8pm while other activity groups extended their presence.
Destination Judo now runs for three hours 3.45-6.45pm on a Tuesday, and Kumon English and maths tutoring now runs three sessions a week on a Tuesday, Thursday and Saturday due to popular demand.
Meanwhile, the Meath Street based centre has continued to see regular bookings from the likes of Darlington Disability and Action for Hearing loss, with dates already scheduled for January and February 2018.
Angie Kelly, centre manager for the Resource Centre, said: "We're pleased with the mix of businesses and community groups that the centre continues to attract. The fact that regular clients are committing more time here is testament to the versatile space we have on offer.
"We do however still have plenty of availability, so if you're looking to make a one-off booking, or to secure a regular space, we'd love to hear from you."
For further information, availability and room rates please contact the Resource Centre on 01642 244 001.