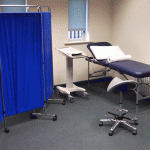 Hundreds of free heart screening tests for young people are on offer at the Resource Centre next month.
The screenings will take place on March 18 and 19 and have been organised by local mum Karen Campbell and funded by the James Campbell Memorial Fund, set up in honour of her son Jamie who tragically passed away in 2013 aged 16 from an undiagnosed heart condition.
Every week in the UK at least 12 apparently fit and healthy young people die from undiagnosed heart conditions. The screenings, which usually cost £35, are giving young people in the Middlesbrough area the chance to have their heart health checked free of charge.
Over the course of the two days the Resource Centre's sister facility, Acklam Green Centre, will be supplying a complimentary lunch for the doctors during the event.
Sandra Phillips, chief executive of Actes Trust which owns the Resource Centre and Acklam Green Centre, said: "As a local business we were delighted to help Karen out by providing lunch for the doctors free of charge. I hope that plenty of people come along over the course of the two days and get behind this important initiative. Our team will certainly be taking the opportunity to have our heart health checked."
The 200 appointments for free heart screening are available to anyone aged between 14 and 35. Appointments can be booked now by visiting www.testmyheart.org.uk or by calling 0203 691 0000