Monthly Archives:
April 2018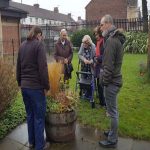 Local residents came together at the Resource Centre to learn how to grow fruit, vegetables and plants as part of the Grow Together project organised by Groundwork North East & Cumbria and funded by Actes.
Across two days people from the local community, including members of the Tees Valley Asian Welfare Forum (TVAWF) who regularly run group sessions at the Resource Centre, took part in a practical training session and a hands-on gardening session under the guidance of Groundwork project officer Laura Ince-Henry, who provided practical advice on various aspects of horticulture, with a particular focus on pruning techniques.
Local resident Mavis Arnold who is actively involved in horticulture projects in the local community, including leading the transformation of an alleyway in Longford Street and its ongoing maintenance, said: "I'm always keen to expand my knowledge, so when I heard about Grow Together at the Resource Centre I took the opportunity to come along. I often get asked for advice on gardening, so anything new I can learn on the subject is really useful. I know things today from attending the session that I didn't know yesterday!"
Laura Ince-Henry, said: "It was great to pass on my expertise to a really enthusiastic group of gardeners through Grow Together. I hope they can put what they learned into practice both in the Resource Centre garden and in their own gardens, alleyways and yards."
Angie Kelly, assistant facilities manager at Actes who looks after the Resource Centre, said: "The Resource Centre's training facilities coupled with our adjoining gardens were ideal for hosting the Grow Together project. It was great to see those who use the centre regularly, plus some new faces, getting to grips with some basic horticulture under the expertise of Groundwork that they can apply in their own gardens, as well as in the community garden here at the Resource Centre."