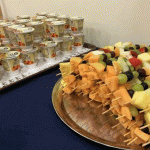 Our in-house caterer, Café Connect, has expanded its catering offer in response to customer feedback.
New Breakfast Buffet and Afternoon Tea menus have extended the range of catering packages available from Café Connect, after the team took on board feedback from visitors attending conferences, meetings and events here at the Resource Centre and at our sister facility the Acklam Green Centre where the caterers are based.
The Breakfast Buffet includes a selection of freshly baked croissants and pastries or hearty bacon or sausage rolls along with fresh fruit and yoghurt. Priced at £3.90 per person, the menu also includes plenty of tea, coffee and orange juice.
Meanwhile, the indulgent Afternoon Tea menu represents fantastic value at £4.50 per person. It includes a selection of finger sandwiches, savoury and fruit scones served with preserve and whipped cream, a selection of homemade cakes or tray bakes and a choice of tea, coffee or herbal tea.
Café Connect has also extended its hot and cold buffet packages to suit customers' needs. The menu now includes three hot buffet options including lasagne, chicken curry and chilli as well as a deluxe hot and cold buffet including sugar baked home roast sliced ham with a selection of salads and quiche. Vegetarian options are also available.
The catering packages include additional healthy items to reflect the organisation's commitment to the North East Better Health at Work programme, for which it has just received the Bronze Award.
Donna Smith, facilities manager, said: "We take the views of our clients very seriously and always look for ways to adapt our offer to best meet their needs.
"We get lots of great comments about our catering supplied by Café Connect, however, based on feedback, we thought it was time to revise our offer and introduce some new options for visitors to enjoy. The new Breakfast Buffet and Afternoon Tea menus and tasty new additions to our hot and cold buffets are already proving very popular."
For further information about catering packages contact 01642 811120 or email info@acklam-green-centre.com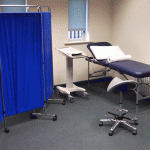 Hundreds of free heart screening tests for young people are on offer at the Resource Centre next month.
The screenings will take place on March 18 and 19 and have been organised by local mum Karen Campbell and funded by the James Campbell Memorial Fund, set up in honour of her son Jamie who tragically passed away in 2013 aged 16 from an undiagnosed heart condition.
Every week in the UK at least 12 apparently fit and healthy young people die from undiagnosed heart conditions. The screenings, which usually cost £35, are giving young people in the Middlesbrough area the chance to have their heart health checked free of charge.
Over the course of the two days the Resource Centre's sister facility, Acklam Green Centre, will be supplying a complimentary lunch for the doctors during the event.
Sandra Phillips, chief executive of Actes Trust which owns the Resource Centre and Acklam Green Centre, said: "As a local business we were delighted to help Karen out by providing lunch for the doctors free of charge. I hope that plenty of people come along over the course of the two days and get behind this important initiative. Our team will certainly be taking the opportunity to have our heart health checked."
The 200 appointments for free heart screening are available to anyone aged between 14 and 35. Appointments can be booked now by visiting www.testmyheart.org.uk or by calling 0203 691 0000