Monthly Archives:
December 2017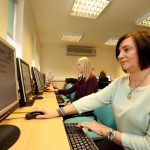 The Resource Centre is increasingly being used as a learning environment and now hosts two regular courses designed to help people achieve their goals.
Defining Futures runs fortnightly for four days a week and is aimed at long-term unemployed, offering them a fully funded intensive NOCN Level 2 Award in Employability. Supported by a grant from the Virgin Money Foundation, Defining Futures covers practical employability skills such as preparing and tailoring CVs and personal skills development, such as communication, team work and problem solving and the use of social media to build a personal brand.
In addition, an ICT Provision course geared around the use of IT to secure employment, with a particular focus on setting up a Universal Credit account, runs from the centre each Monday. Delivered by Actes' YEI New Directions recruiter, Ian Brady, the course is designed for clients referred via Job Centre Plus to help move them closer to the employment through the use of ICT.
Angie Kelly, centre manager at the Resource Centre, said: "The centre is perfectly suited to deliver courses of this kind. Our IT suite comes equipped with 14 desktop PCs, excellent connectivity, presentation equipment and in-house catering."
For more information about Defining Futures including course dates contact Abigail Fields via abigail.fields@actes.co.uk. For further information about the IT Provision including course dates contact Ian Brady via ian.brady@actes.co.uk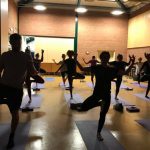 The Resource Centre continues to be a venue of choice for many businesses and community groups.
Last month saw Yoga with Michaela launch a new class from the centre on Mondays, 7-8pm while other activity groups extended their presence.
Destination Judo now runs for three hours 3.45-6.45pm on a Tuesday, and Kumon English and maths tutoring now runs three sessions a week on a Tuesday, Thursday and Saturday due to popular demand.
Meanwhile, the Meath Street based centre has continued to see regular bookings from the likes of Darlington Disability and Action for Hearing loss, with dates already scheduled for January and February 2018.
Angie Kelly, centre manager for the Resource Centre, said: "We're pleased with the mix of businesses and community groups that the centre continues to attract. The fact that regular clients are committing more time here is testament to the versatile space we have on offer.
"We do however still have plenty of availability, so if you're looking to make a one-off booking, or to secure a regular space, we'd love to hear from you."
For further information, availability and room rates please contact the Resource Centre on 01642 244 001.