Monthly Archives:
October 2017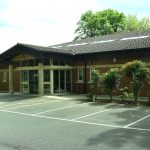 A medical device specialist who has travelled the world undertaking work for some of the largest manufacturers in the US, Canada and the EU has returned to his hometown of Middlesbrough and established a base at the Resource Centre close to the centre of town.
Paul Rowden managing director of European Device Solutions Ltd, an expert medical device and IVD consultant for global professional services consultancy Procorre, has signed an agreement to 'hot-desk' at the Meath Street based business and community centre on an ongoing basis.
Paul said: "After living and working across the UK and overseas for many years, working from a home office, I was keen to establish a base for my business which would not only enable me to be closer to family in Middlesbrough where I grew up, but which would enable me to present a professional image to a global client base who I often speak to over Skype.
"I was instantly impressed by the Resource Centre which has all of the facilities I need including wireless broadband and access to professional meeting space. I was also really struck by the large conference hall which supports my ambitions to host seminars to showcase Procorre's expertise in the sector, something that would help put Teesside and the North East on the map within this niche sector."
The agreement marks a return to Teesside for Paul who originally grew up in Grangetown and has lived and worked across the UK and overseas during a 27-year career. After working on oil platforms at the start of his career he then decided to focus his attention on quality assurance, completing nine qualifications at Teesside University within a year to fast-track his career and becoming a member of the Institute of Quality Assurance (IQA) in the process.
European Device Solutions Ltd., which has operated as part of Procorre since last June to provide them with medical device expertise, has supported the development of Quality Management Systems (QMS) and CE Marking Technical Construction Files for companies manufacturing medical devices and In Vitro Diagnostics (IVD) ranging from non-powered wheelchairs to MRI scanners.
Paul has recently produced advanced oncology procedures and technical files on behalf of a manufacturer of Proton Beam Accelerator which is about to go on clinical trial in two UK hospitals.
The Resource Centre and its sister Acklam Green Centre provide a range of office space options from part-time 'hot desking' and 'co-working' to permanent desks and private office space.
Angie Kelly, assistant facilities manager at Actes which owns the Resource Centre, said: "We are really pleased to welcome Paul to the centre. He provides a really specialist service to a global client base and we are delighted that we can support him through his next stage of growth by providing a professional business environment and support with his future planned seminars and events."
The Resource Centre provides first-class meeting training, conference and events facilities, for hire to businesses across Tees Valley as well as the local community. For further information call 01642 255 001, email info@the-resource-centre.com or visit www.the-resource-centre.com