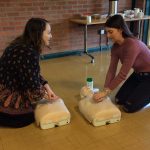 St John's Ambulance hosted Essential First Aid Training for Actes staff and members of the local community at the Resource Centre in March.
Vicky Rountree, school and community trainer at St John's Ambulance, led two three-hour sessions for 24 people in the centre's Ford Hall. Those in attendance included some of the Resource Centre team who are employed by Actes.
The course comprised of theory and practical exercises covering emergency life support procedures for adults, children and infants. Specific techniques included treating severe bleeding and chest pain and treatment of choking in adults, children and infants.
Angie Kelly, assistant facilities manager said: "Our Ford Hall is ideal for a wide range of uses and this was demonstrated by the St John's Ambulance training. The Ford Hall offered plenty of space to teach the theory and undertake practical exercises.
"Members of the Resource centre team who attended the training got a lot out of the session and said they'd be better prepared in an emergency situation in the future."