Monthly Archives:
October 2018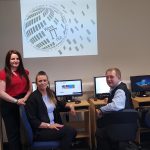 Work IT Out, a free accredited training course designed to help people improve their basic IT skills to be better equipped to secure employment and navigate Universal Credit, continues to run every fortnight from the Resource Centre's IT suite.
Work IT Out runs for eight days over two weeks (Tuesday to Friday) and carries two qualifications, Entry Level 3 IT and NOCN Level 1 Employability. The course is aimed at people aged 19 plus from Middlesbrough and Stockton and course elements include navigating a computer, how to apply for and how to use Universal Credit, communication and interpersonal skills, creating a CV and cover letter, budgeting and interview preparation.
Between April and September 112 people completed either part one or both parts of the course, which also runs from the Newtown Community Resource Centre in Stockton. Up to the end of July, 24 people who had completed the course reported that they had progressed into employment, further training or volunteering/ work trials, while 97% reported feeling more confident about job searching upon completion of the course.
Paul Wales, operations director at Actes which developed and delivers Work IT Out, says: "We are pleased with the interest in Work IT Out so far, but we're keen to secure more referrals so that we can help people in need of employability support and those who would benefit from help in navigating Universal Credit."
Work IT Out clients have rated the Resource Centre highly in their evaluation forms with 94% scoring the facility as Very Good or Good.
Paul added: "The Resource Centre is an ideal venue to run Work IT Out from due to its on-site parking, excellent IT facilities and in-house catering."
In addition to Work IT Out, the Resource Centre has recently attracted a number of training organisations who are delivering courses from the facility. Organisations including Northumbria College, Aspire, Sulzer Chemtech and Working Links have all made use of the centre's facilities in recent months.
For further information about training facilities at the Resource Centre contact 01642 255001.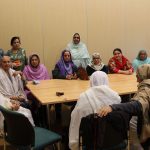 The Resource Centre has become the long-term home for a number of groups running regular classes and activities in Middlesbrough.
Tees Valley Asian Welfare Forum (TVAWF), a charitable organisation offering a multi-cultural day care service to frail, elderly and disabled Asian people in Tees Valley runs five classes from the centre each week. TVAWF offers enriching activities such as light exercise, health advice, literacy sessions, discussion groups, day trips, arts and crafts such as flower arranging and knitting, gardening and aromatherapy massage for men and women. Those attending also get to enjoy a two-course meal prepared by the TVAWF team in the centre's kitchen.
TVAWF has been based at the Resource Centre since 2007 when the organisation was founded. Mrs Raja, who runs the classes, says the facility ideally meets the needs of the group. She said: "The Resource Centre has many facilities that suit us and cater for our needs based on the type of activities we run. The gardens allow us to have our own planters to grow plants and herbs and the well-equipped kitchen enables our team to prepare a meal for the group at each session.
"Not only does it lend itself our varied activities, the venue is bright and spacious and the team are very friendly and always willing to help. The centre also has the added benefit of on-site parking.
"We still have space for new people to join us, so anyone who would like to get involved should get in touch."
Another longstanding customer of the Resource Centre is Destination Judo. For the past four years the judo school has run two classes for children aged five to 15 plus a squad class for more advanced students each Tuesday from the centre's Ford Hall.
Craig Mitchell, a coach at Destination Judo, said: "The Resource Centre offers a great location which benefits being close to a number of local schools."
Angie Kelly, assistant facilities manager at Actes, who is responsible for the day to day running of the Resource Centre, said: "We are delighted to have secured a number of long-term bookings from groups like the Tees Valley Asian Welfare Forum, Destination Judo and many others who run regular classes and activities. Their support means there's plenty on offer for the local community to participate in.
"We can accommodate additional leisure and community bookings, so we would love to hear from anyone interested in setting up from our fantastic facility."
Other activities taking place at the Resource Centre include Kumon extra tuition classes, Health Through Activity, Friendly Faces and a community bingo group.
For further information about Tees Valley Asian Welfare Forum contact 01642 765574, 07584 120211 or email aneeka.tvawf@yahoo.com
For further information about Destination Judo email destination@britishjudo.org.uk
For further information about activities at the Resource Centre or room hire please call 01642 255001