Monthly Archives:
June 2018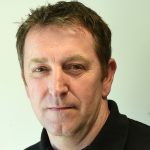 In the twelve years since securing his role at Actes, formerly the West Middlesbrough Neighbourhood Trust (WMNT), site facilities worker Chris Wilson has proved to be able to turn his hand to anything from plumbing to decorating and joinery to landscaping, and now he is passing on this expertise to the organisation's newest member of staff.
Having initially been employed by WMNT as one of the caretakers responsible for the physical transformation of the West Middlesbrough area, Chris was integrated into Actes' facilities team in 2014 with a responsibility for the maintenance of its two business and community centres, the Acklam Green Centre and Resource Centre, as well as the organisation's housing stock.
Chris's role currently revolves around the Resource Centre and Actes' 10 houses, working as part of team of four alongside Actes' assistant facilities manager, receptionist/ administrator and assistant caretaker, to ensure the facility and properties remain in prime condition for customers and tenants.
Over the past four years, the former fabricator/ welder from Redcar has proved to be a valuable asset to Actes' team of site facilities operatives, taking on a range of tasks which on a day-to-day basis include everything from setting up rooms for meeting and events to maintaining the centres gardens, grounds and sports pitches and doing decorating, repair and maintenance work at the centres and residential properties. Chris is called upon to undertake a variety of jobs on behalf of Actes, and notable projects include building the organisation's Trending shop unit at Riverside Park, the base for the charity's new-concept clothing bank and building a self-contained meeting space at Actes' head office.
Chris comments: "My role with Actes has involved using the skills I gained in my employment as a welder and fabricator and applying them in a different way. It's nice to do something different and it's the variety that I enjoy most about the role, that and working with a great team and getting to know the regular customers who come into the centre. It's a really friendly and sociable environment to work in."
Chris has recently completed a project at one of the houses to overhaul one of the property's gardens, including creating a decked patio area, alongside Louis Marshall an assistant caretaker funded through the Talent Match project. The project has provided an opportunity for Chris to mentor Louis who is hoping to pursue a career in joinery. Chris has provided on-the-job training and support to at least six young people during his time with Actes.
Chris says: "Louis is very hardworking and enthusiastic member of staff and it's a pleasure to be able to pass on the skills I've learnt during the course of my career to help someone who is starting out in theirs. He is a quick learner and very capable, as he showed during the recent project to create a patio and decking. I'll continue to coach him and ensure he has the chance to learn as much as possible from the rest of his time at Actes. I've no doubt he'll go on to have a fantastic career."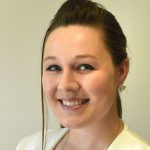 Over the past six years Receptionist/ Administrator Jessica Hall has established herself as a key part of the team responsible for the day-to-day running of the Resource Centre, and a familiar face among the regular groups and new customers that use the facility for meetings, conferences, events and activities each week.
Jessica began her employment with Actes as a casual receptionist, acting as a main point of contact at both the Resource Centre and sister facility the Acklam Green Centre, before securing a permanent contract at the Meath Street based facility two years ago.
Prior to gaining employment with Actes, the 27-year-old from Redcar had gained customer relations experience in a role with Virgin Media and as a waitress, which she has been able to build-upon in her varied role with Actes.
Working as part of a close-knit team, Jessica's day-to-day responsibilities include; ensuring the centre's rooms are set up in the layout requested by the customer and that IT equipment is working correctly, meeting and greeting customers and making sure they are aware of fire regulations and know how to use the IT equipment and acting as a point of contact for customers throughout their visit to centre. In addition, Jessica manages all email and phone enquiries and bookings for the centre and showcases the facilities to potential customers when requested. The role also involves event planning for celebrations such as children's parties and weddings, something which she has put into practice for her own daughter's fifth birthday party.
The Resource Centre attracts a mix of bookings from local businesses and organisations, as well as community groups such as the Tees Valley Asian Welfare Forum, the Health Through Activity over 60s exercise group, Destination Judo and Kumon extra tuition classes. Jessica says that it is building positive relationships with customers that is the most rewarding part of the job.
She commented: "Dealing with customers is what I enjoy most about the job. The Resource Centre attracts lots of regular groups, so I get to meet lots of lovely customers week in week out who I've got to know and built a rapport with. I also enjoy meeting new customers and ensuring they have a great experience and choose to re-book their meetings and events here."
Jessica works closely alongside centre manager Angie Kelly, site facilities worker Chris Wilson and Apprentice Assistant Caretaker Louis Marshall, she says that having such a supportive team is another positive aspect of the job. She commented: "We all work really well together to meet the needs of customers. It's also nice having other members of the Actes team based in the centre, working on other projects to help local people. It's a really good place to work."
Over the course of the past two years Jessica has undertaken on-the-job training including an NVQ Level 2 in Business Admin and a range of other courses including first aid and conflict management to support her role. Outside of work she keeps busy looking after her five-year-old daughter and is getting ready to expand her family with a new baby due at the end of the year.