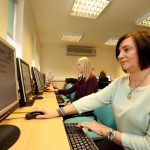 The Resource Centre is increasingly being used as a learning environment and now hosts two regular courses designed to help people achieve their goals.
Defining Futures runs fortnightly for four days a week and is aimed at long-term unemployed, offering them a fully funded intensive NOCN Level 2 Award in Employability. Supported by a grant from the Virgin Money Foundation, Defining Futures covers practical employability skills such as preparing and tailoring CVs and personal skills development, such as communication, team work and problem solving and the use of social media to build a personal brand.
In addition, an ICT Provision course geared around the use of IT to secure employment, with a particular focus on setting up a Universal Credit account, runs from the centre each Monday. Delivered by Actes' YEI New Directions recruiter, Ian Brady, the course is designed for clients referred via Job Centre Plus to help move them closer to the employment through the use of ICT.
Angie Kelly, centre manager at the Resource Centre, said: "The centre is perfectly suited to deliver courses of this kind. Our IT suite comes equipped with 14 desktop PCs, excellent connectivity, presentation equipment and in-house catering."
For more information about Defining Futures including course dates contact Abigail Fields via abigail.fields@actes.co.uk. For further information about the IT Provision including course dates contact Ian Brady via ian.brady@actes.co.uk